WSA INNOVATION DAYS & GRAND JURY IN ACCRA
16 international experts in entrepreneurship, innovation and IT, an impressive shortlist of digital solutions 2018 with social impact and hot discussions around who will be a WSA Winner 2018 - the WSA Grand Jury offered the perfect framework for an intense exchange.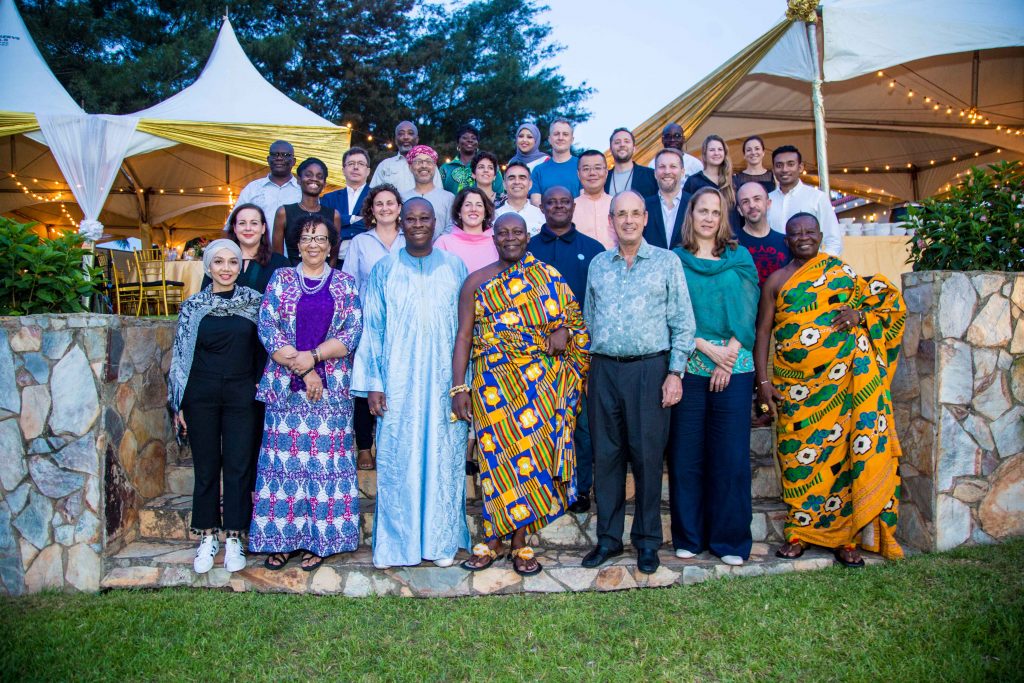 WSA organized togehter with GCNet and GIZ´s Tech Entrepreneurship Initiative 'Make-IT Africa' a special night dedicated to enable a sustainable knowledge transfer between local tech-entrepreneurs and ICT stakeholders. The specific focus was on capacity building of Africas entrepreneurs & stimulating local innovation.
The evening was honored by the welcome of Prof. Kwabena Frimpong Boateng, Minister of Environment, Science, Technology and Innovation, Hon. Vincent Sowah- Odotei, Deputy Minister Communications & Dr. Nortey Omaboe, Exec. Chairman GCNet.
Dorothy Gordon, WSA Expert for Ghana, Jan Schwaab, Head of Programme Tech Entrepreneurship Initiative "Make-IT in Africa", and Dr. Peter Bruck, WSA Chairman, shared their perspectives on the development and potential of ICT with social impact for closing the digital divide.
''Today we are in a completely different environment – through the mobile revolution, through the emergence of algorithmic age - data has become a capital as much as labor, land money and machinery. And what we did not think of 15 years ago, was that there would be a situation where you have to evaluate what is excellent content that really offers solutions and impact. We have to face the world where the qualitative content has become the key and permanent issue. WSA has to help society to understand how we can use ICT for social connectivity. To connect for impact." stated WSA Chairman, Peter A. Bruck.
''How do we change the narrative of Africa? Look at media today and what is transmitted as a narrative of Africa – I did the Google research today, and the top 3 came migration, poverty and hunger. But hardly anything is mentioned about the amazingly creative and powerful youth, that there is so much happening in the digital innovation area. And it is really a pleasure and honor to have the World Summit Awards for the first time in African soil – appreciating and recognizing this positive movement.  And from a young development perspective – you definitely have to strengthen this part of the narrative."
Jan Schwaab,  Head of Programme Tech Entrepreneurship Initiative "Make-IT in Africa", said about the developmental perspectives in Africa.
Extensive discussions on Digital Innovation with Jury experts on Block Chain, Gamification, Social Entrepreneurship, Ecosystems, Education etc. were followed up with a networking session to exchange experience and insights with local entrepreneurs.
In his keynote, Gary Schwartz, Global Director of the Location Based Marketing Association in Canada, shared his insights on Block Chain Solutions for Africa, Carolina Rossi from Chile, Astrid Scholz from the USA and Shinta Dhanuwardoyo from Indonesia discussed the workings of different Innovation Ecosystems worldwide and recommendations for Africas Ecosystems.
"Chiles biggest challenge is its geographical isolation, with mountains from the west side, desert in the north and glaciers in the south. This leads to a very isolated society in terms of culture and entrepreneurship.  But in terms of innovation and new entrepreneurs, you need to be open minded and connected to the world. [..] So we created Startup Chile,  a public policy, that tries to achieve cultural change to make Chileans believe, that they can become global startups and entrepreneurs. So we began to do a culture shift. That is also my recommendation – to look at Chile and Ghana entrepreneurs and make believe in themselves. You need to change the culture, then worry about economic impact. Make entrepreneurs believe, that they can make a global impact." states Carolina Rossi, WSA Expert from Chile.