THIS WAS THE WSA GLOBAL CONGRESS 2019 CASCAIS
A TRANSFORMATIVE LEARNING JOURNEY - PURPOSE DRIVEN INNOVATION IN PORTUGAL
More than 400 delegates met at Nova SBE Campus, Cascais, turning Portugal into a global hub for start-ups and digital innovators on the subject of "Purpose driven digital Innovation." With a focus on solving real problems, working towards the UN SDG's and evoking positive change on society, the participants of the WSA Global Congress exchanged knowledge and shared inspiration. WSA and its Portuguese partners APDC, the City of Cascais and Tourism Portugal brought together a worldwide network at Nova SBE, with the focus on exchanging best practice modes and fresh ideas.

Social benefit, sustainable impact, global diversity and digital innovation were the core themes of the WSA Global Congress 2019 - and the Global Champions. The 3 day congress showed how concern and distress give rise to innovative solutions, and how need can foster invention and sustainable change. The Nova SBE campus became a hub for unique knowledge exchange with 400 participants and outstanding international best practices of digital innovation with impact on society and mentors.
SHARING KNOWLEDGE - WSA INSPIRATION SHOTS
Digitalization, Artificial Intelligence and Industry 4.0 – the world is in the middle of another technical revolution. But what are the main points to deliver positive impact to society and how can digital content help to solve pressing issues? Marcus East, CTO of National Geographic, shared how concepts of flexible technology, experimentation, agility and customer focus have shaped the world and where Digital Transformations have delivered social benefit.

Keynotes on purpose driven entrepreneurship and digital innovation challenged the status quo of the audiences mind-set. Insights on entrepreneurship on a global scale were delivered by:
Dana al Salem, Founder and CEO FanFactory, UK, Kuwai
Sofia Couto da Rocha, Skin Soul, Portugal
Tomi Davies, President African Business Angels Network, Nigeria
Pablo Santaeufemia, CEO & Co-Founder Bridge for Billions, Spain
Dorothy Gordon, Consultant Digital for Development, Ghana
Miguel Reynolds, CEO and Founder Corkbrick, Portugal
Alia El Kattan, Egypt
Moses Acquah, Afrolynk, Ghana
Ana Pantelic, Chief Strategy Officer, Fundacion Capital, USA•
Abbas Adel, Serial Entrepreneur, Egypt
Gloria Mangi, Founder and President of African Queens , Project,Tanzania
Marcos Oap, Brazil
EXCHANGE. SHARE. NETWORK.
The program of the WSA Global Congress connected international thought-leaders, ICT experts, regional stakeholders and digital entrepreneurs in multiple interactive knowledge sessions.Hands on workshops ranged from Lego Serious Play to Block chain for Social Entrepreneurs.

Welcome Reception at the Austrian Ambassador to Portugal
Pitch Perfect Training for Winners
WSA Global Experts Reunion
Innovation Shots and Inspiration Talks by international and local speakers
Fishbowl Sesison on Purpose Driven Entrepreneurship
WSA Innovation Pitches by WSA Winners
1:1 Mentoring Session between WSA winners, Portuguese start-ups and experienced mentors
Entrepreneurial Failure Night
Solution Jam
Interactive Hands-On Workshops and Skills Training
Cascais Sightseeing Tour
Josef Umdasch Research Prize in the framework of WSA
WSA Award Ceremony, Gala and after party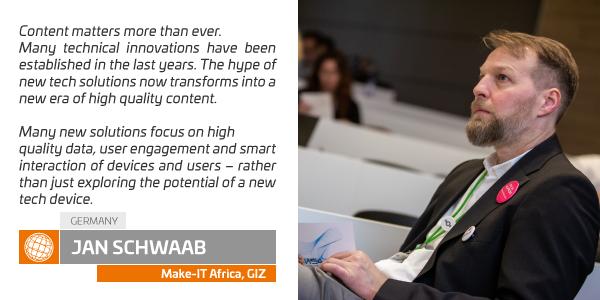 ENTREPRENEURS ON STAGE
Giving a unique overview of the worldwide diversity on how local issues are solved with digital innovation, 51 teams will presented their outstanding solutions form over all over the world.
WSA Global Congress Cascais featured the the 40 global winners in the 8 WSA categories and the WSA Young Innovators,  and connected them with international thought-leaders, ICT experts and regional stakeholders to enable a knowledge transfer. On invitation of the City of Cascais, WSA Global Congress Cascais provided a stage for best practices and shared experience on how social innovation and entrepreneurship can be encouraged and play a key role to have a sustainable impact on society.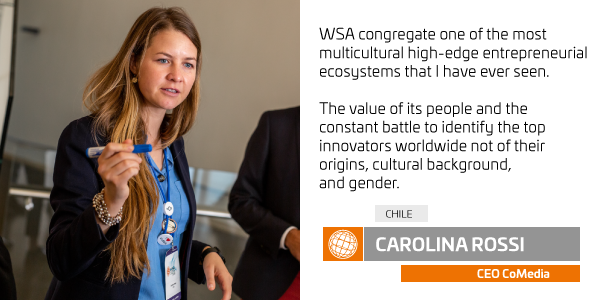 Nova SBE Campus in beautiful Carcavelos is a Campus built for interaction. The archetype of Portuguese reality: near the metropolis, yet close to the sea; looking onto a broad horizon, where the future is to be discovered, while also being close to places where history and culture live. The newly built Campus benefits from the fantastic Lisbon weather and invites you to go outside and enjoy the fantastic coast view.
WSA GLOBAL CONGRESS PARTNERS
BROUGHT TO YOU BY
SUPPORTED BY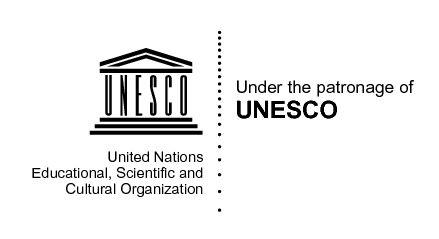 SPONSORING PARTNER
MEDIA PARTNERS