WheeLog!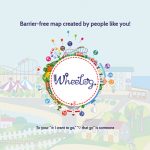 Original Title: ウィーログ!
Year: 2018
Award: World Summit Award
Category: Smart Settlements & Urbanization
Producer: WheeLog!
Organisation: WheeLog!
Country: Japan
WheeLog! is the only crowdsourcing map in the world that makes it possible to visualize the routes wheelchair users took. WheeLog! can also share users' experiences and wheelchair-accessibility information about restaurants, bathrooms, other public facilities, and even streets' steps. Users can request information about places they are interested in, and interact with other users by sharing information using Chirps function. WheeLog! is also useful for cane users and parents with strollers.